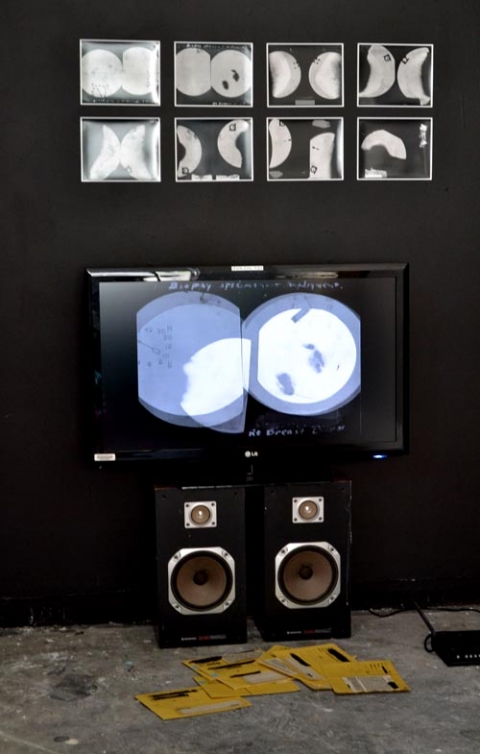 Away
2012
Found materials (mammogram x-rays), photographs, single channel video, and speakers.
Variable dimensions
The single channel video images (of "found" mammograms) flicker like a moth to a flame while we hear a fluttering sound. The still photographs of those mammograms hang above while the medical files with personal information (names have been blocked out by the artist) are scattered on the floor beneath. Using photos, video and an audio element to deconstruct/construct/reconstruct a moment in time/history/memory that touches upon the concept of "away," as well as other issues such as, public versus private/personal.
Away (detail)
2012
Video Remix (detail) for the installation "Away"
Single channel Video
Single channel video (detail).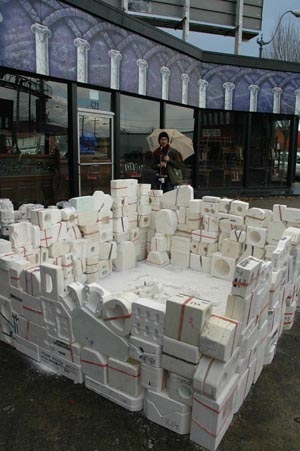 What's Left
2008
Plaster
Variable dimensions
Interactive Installation. Holiday ceramic molds in a fort created with found ceramic molds that appear as shells or negatives of objects that surround us as a reminder of "home". The center of the fort is a pit filled with fragments of molds broken. Passersby were asked to recall a childhood memory which was recorded and played back over and over again losing emotion, yet at the same time impressing it on our minds.